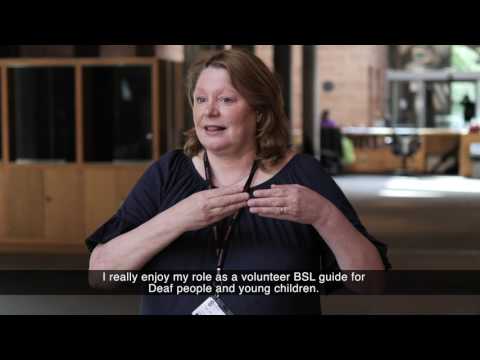 Glasgow Museums are committed to ensuring access to the Museums and collections for all. Most recently, by developing a targeted volunteer programme, The Burrell Collection Redisplay Project have been facilitating access for diverse groups including those for whom British Sign Language is their first language; and people in the city who speak community languages.
So far the BSL volunteer group have contributed more than 1000 volunteer hours and led several guided group tours. The 15 Community Language Guides facilitated tours to 200 new visitors to Glasgow Museums, increasing participation and enhancing the visitor experience of a hard to reach audience. The tours were facilitated in Urdu, French, Polish, Arabic and Farsi, reflecting the 5 top, non-English, languages spoken by school children in Glasgow.
The success of the Language Guide Programme is such that both elements have now been included in the vision for the Burrell when it re-opens. Glasgow Museums will now spend the next 3 years further developing the volunteering strands, piloting in different Glasgow Museums' venues, ahead of launching as part of the Burrell Volunteer programme in 2020.