Glasgow's Volunteering Strategy
First adopted by the Glasgow Community Planning Partnership (CPP) in 2010, the current Strategy for 2019-24 was endorsed by the CPP in March 2019.
The Scottish Government then published its Volunteering for All national framework in April 2019: view/download a copy of the Volunteering for All framework from Gov.Scot
The Volunteering for All framework sought to (a) "set out clearly and in one place a coherent and compelling narrative for volunteering; (b) define the key outcomes desired for volunteering in Scotland over the next ten years; (c) identify the key data and evidence that will inform, indicate and drive performance at a national and local level; and (d) enable informed debate and decision about the optimal combination of programmes, investments and interventions".
In June 2020, the CPP Executive Group considered a report following people's huge volunteering efforts in response to covid19: view/download a copy of Glasgow's Strategic Volunteering Update (Covid-19 Response) (PDF/opens in new tab)
As a result of the June 2020 meeting, Glasgow Life, Glasgow Council for the Voluntary Sector (GCVS) and Volunteer Glasgow were asked to lead on a review of the Strategy in order to, "ensure that the future of volunteering in the city aims to achieve the vision outlined in Volunteering for All, 2019 and Glasgow becomes a place 'where everyone can volunteer, more often, and throughout their lives'". View/download a copy of the review document which outlines the purpose and scope of the review (PDF/opens in new tab)
An independent consultant was selected and appointed in September 2020 to conduct elements of the review with a wide range of stakeholders.  A very big thank you to everyone that was able to contribute.  The Summary Report from Advantage Training Consultancy and the partners' initial responses to their recommendations were presented to Glasgow's Social Recovery Taskforce on 26th January 2021.  View/download a copy of the Taskforce meeting papers (PDF/opens in new tab) 
The Scottish Government promised in 2019 to work with stakeholders to develop a "Delivery Plan" for the Volunteering for All framework.  Consequently, the national Volunteering Action Plan was launched in June 2022: click here to view the Volunteering Action Plan website
Copies of the original Glasgow Volunteering Strategy for 2019-24 are available here:
Partners worked throughout 2018 to refresh the Strategy, ensuring that our action plan best serves the city's  priorities. A crucial part of this process was carried out earlier in 2018 when a series of consultation activities were facilitated by Volunteer Glasgow. These activities included workshops attended by key partners and stakeholders as well as an online survey via which anyone with an interest in how Glasgow grows high quality, inclusive volunteering could input their views and comments. A copy of the full Consultation report can be found by clicking on the link below;
Glasgow's Volunteering Strategy Refresh Consultation Report
What should be in Glasgow's Volunteering Strategy?
People make Glasgow in different ways. One way is when we volunteer our time, skills and energy to make things better in our communities.
You might be surprised by just how important volunteering is to the city. Click on the two images below to view our 2 short films about volunteering in Glasgow.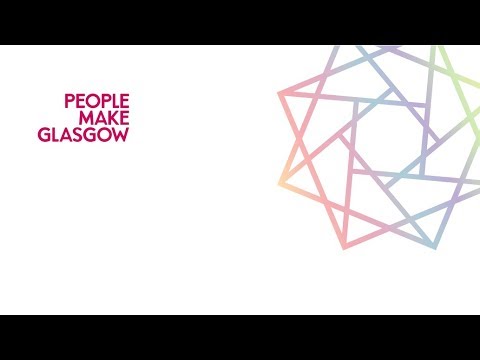 Since 2010, Glasgow has aimed to increase and improve volunteering, and in 2013 the Poverty Leadership Panel set out to make volunteering more accessible for people living with issues of poverty.
Many partner organisations have achieved a great deal towards these goals but we have little direct control over some of the things that influence volunteering.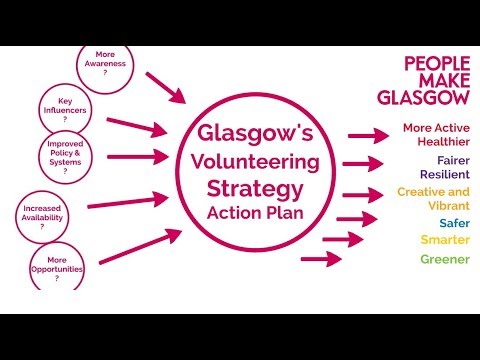 A copy of the full technical report on the Volunteering Strategy to March 2018 – which accompanies the film –  is available: view/download the Technical Report (PDF doc)
Glasgow 2014: has there been a Legacy?
A report and associated headlines (May 2017) suggest we failed collectively to capitalise on the success of volunteering at the Glasgow 2014 Commonwealth Games… This is what we think: Read our blog post (Friday 26th May 2017)