Update: The Build Off is over! We're delighted to have raised £340! Check out the amazing builds in the video from R-CADE below: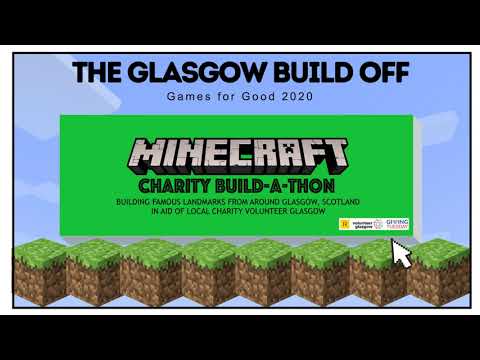 This year, Games for Good is back! In 2019, we were joined by streamers across West Scotland to raise money for the Young Persons Befriending Service. This year, we're building Glasgow in Minecraft to benefit the incredible work of our Organisation Support team: they've been supporting people and organisations to volunteer and change lives during a really tumultuous year and they need your help to continue that work. Like last year, we're partnering up with our friends at R-CADE and running streams in the days leading up to and including Giving Tuesday, the biggest day of charitable giving worldwide.
So what is The Glasgow Build-Off?
The Glasgow Build Off is a 4-day Minecraft build of Glasgow landmarks, running from Saturday the 28th of November to Tuesday the 1st of December (Giving Tuesday).
Our Minecraft server will be open for between 2 and 4 hours on each of  these days, during which time builders will create their landmarks and all the action will be live-streamed via Twitch. R-CADE will be running Twitch streams, and builders are welcome to run their own too! People watching streams can click to donate to Volunteer Glasgow during the streams. All the donations taken during streams of The Glasgow Build Off will go towards Volunteer Glasgow's activities helping people to volunteer.
The build-off is for builders and fans of all ages, and everyone is welcome to join, no matter your experience level!
Our aim is to recreate 20 Glasgow landmarks in our Minecraft Server, plus any Glasgow locations near and dear to builders that are not on the list. You can check out the full list of landmarks below:
Kelvingrove Art Gallery

Riverside Museum

Glasgow City Chambers

Glasgow Science Centre

Gallery Of Modern Art 

The Willow Tea Rooms

Glasgow Central Mosque

Tron Clock Tower

The Barrowland Ballroom

R-CADE Glasgow

Duke of Wellington Statue

Finneston Crane

Glasgow Film Theatre

Central Station Bridge

Squinty Bridge

Squiggly Bridge

The Waverly 

MacLennan Arch

Doulton Fountain

The Glasgow Tower
Our Minecraft server is invite-only, so if you'd like to join The Glasgow Build Off and help raise money for charity, sign up HERE.
The Glasgow Build Off is brought to you by: